We recently built a BO-BO chassis for a customer utilising 4x 1HP motors (see below) and from this we have been able to develop a universal chassis system that allows for a lot of flexibility in size in either a bogied loco or as a stand alone chassis. IT is built in all 8mm plate steel apart from the motor mounts and coupling sockets and varies in weight dependant on the size requested.

This stand alone chassis was extended from the bogies designed for our BO-BO loco to reach 50" long and weighs around 150KG as seen.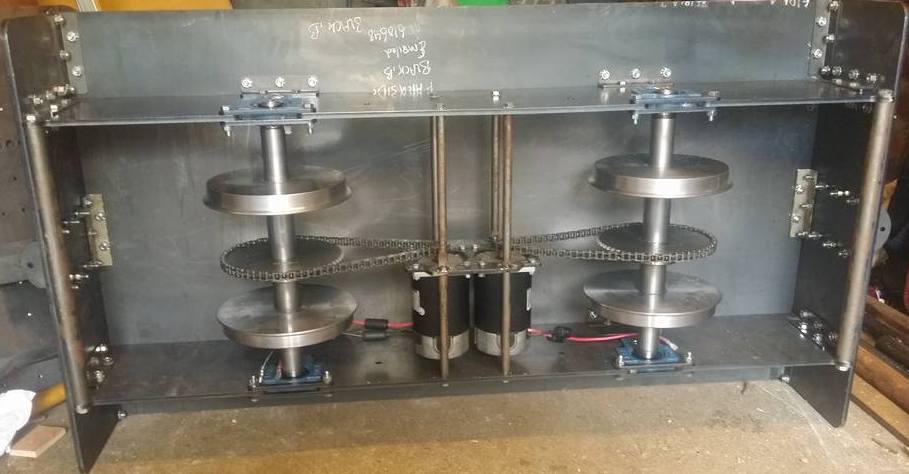 This unit is fitted with two of our 400W motor geared for 7MPH but all future units wil be fitted with 2x 1HP motors and air brakes still geared for ~7MPH.
The base price is £1600 for a motorised and air braked chassis for up to 50" longer. We can make variations on lengths and even number of axles to suit your requirements.
We are pleased to announce our latest offering, this is a large BO-BO chassis measuring 7'8" long and 26.25" wide and 12" from the rail head (2,337mm long and 670mm wide) with multi height couplers for large stock connectivity.
It comes fitted as standard with 4 x 1HP motors geared for 7.5MPH giving 350 ft lb of start up torque. It weighs approx 350Kg and is fitted with spring on/air off brakes.
There is nothing electrical/electronic fitted to it at the base price to allow total customisation for the owner to fit their own system and body (though we can design bodies to suit individual requirements). The large flat chassis plate allows many options ranging from complete battery electric through to hybrid and full diesel/petrol electric control.
As a rolling, motored and braked chassis with no control system £4,600
Coupling rods £600.
Electric only control system (supply your own batteries) additional £680 fitted
Small launtop petrol engine and 24v alternator for charging batteries £750 fitted
Small yanmar diesel engine and 24v alternator for charging batteries £1200 fitted
3 Cylinder Yanmar and 24v alternators for full diesel electric £4000 fitted.
12v OR engine driven compressor and air control system £600 fitted.
We can also offer other bespoke designs such as control dashboards