The following are extra to the controller price.
We can make pretty much any handset you could wish for but the following are a selection of the popular ones.
UN1
: with key switch, for/neu/rev switch and pot on leads
Bought with controller
£11.63
Bought without controller
£22.88


UNB1
: Same as above but fitted in a box
Bought with controller
£12.39
Bought without controller
£23.62
CS1:
Child Safety handset.
this is an add on
for any handset type. A handset on a 2M lead with a deadman switch which allows power to be removed from the main handset. This is ideal for small children or people with learning difficulties. If the safety handsets plug is removed from the handset or the switch is turned off on the CS1 power to the motors is removed allowing brakes to be applied safely. Supplied with a blanking plug for normal operation.
£15.00
FT1
: Foot treddle control for speed controllers, mainly for use with kiddie cars, includes key switch, for/neu/rev switch and push pot
Bought with controller
£38.53
Bought without controller
£49.76


Dynamic braking controllers add
£37.62
Spare red pot for FT1
£31.23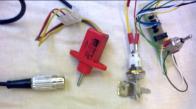 PT1:
Pot angle amplifier, this is to shorten the travel/angle that the speed controller needs to be moved to get full control, this is especially useful for joysticks (comes fitted as standard to our own) and for tram type controls where only a small travel is required on the speed control handle/knob
£9.40